I've made a little tree of Gondor for my Lord-of-the-Rings-loving girlfriend to hang her earrings on. There's not much to say about the construction but there goes anyway.
It's made from 5mm plywood, cut with a scroll saw, sanded, assembled with wood glue and then varnished.
There are only two pieces, slid into one another, and the most time-consuming task are the cutting (it's long to follow each path) and the varnishing of each face, including the cuts.
For the design I took my inspiration from my girlfriend's tattoo, which closely resembles the illustration on the Wikipedia page.
As I forgot to take pictures during cutting and construction, here's the result :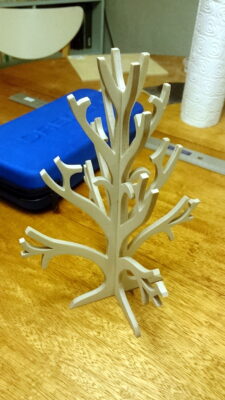 The proportions are different, in particular the tree trunk is shorter, because of the original plywood sheet's form factor, but I'm rather happy with it, and more importantly, so is she :)