The Sylpheed-Claws meeting finally happened this week-end! It's been really nice to meet these people I work with since such a long time, and to put faces on names. It wasn't a technical meeting at all, these ones can be done via email or IRC, just a meeting involving food, drinks and chatting; but we've still been able to think about some nice ideas for the future of Sylpheed-Claws, like ideas toward a better addressbook. A few things about UK and the meeting:
Bristol is a nice place
I don't know about english food, but english breakfast and english pizzas are fine
English Guinness is as fine as imported Guinness in France, and english cider is really different but nice too
Hoa is the worst geek among us, an award deserved by the fact he brought his laptop :-P
I apparently don't have as much of a bad accent as I thought (yay!)
The UK security guys at the airport aren't kidding, and they confiscated my toothpaste
It didn't rain a single time, so I have to believe Paul when he says it doesn't rain often in UK…
Here are the mandatory pictures: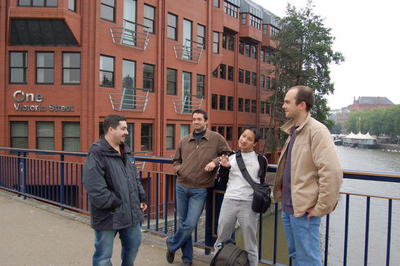 I'm looking forward to the next meeting, where hopefully people (Andrej, Fabien for example) who couldn't come this time would be able to join us!