Since I'm out of a job, I've got some time these days, and I spent the last three days with Paul. It was nice !
On monday we went to my ex-job in order to help Lynette (the HR person) getting internet back, We went by bike with Paul in the Gobug trailer. I was afraid he would be cold, but in fact he was a bit too hot with all of the ski outfit… We went to the restaurant with Lynette and two other ex-colleagues, it was a nice moment and Paul has been very nice : after he ate his meal first, he spent time looking around, walking around, and he didn't disturb us at all !
Paul is now walking all by himself, since about two weeks. He's getting good now, and he doesn't need help  or a piece of furniture anymore to stand up.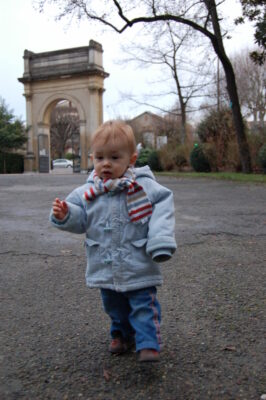 He's trying to eat by himself too. This gets a little messy on the table.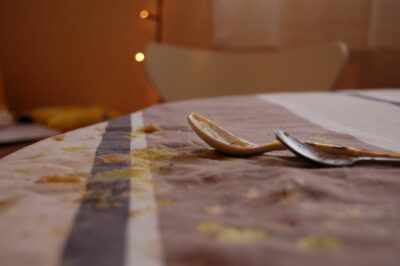 Yesterday, we stayed at home, and played together when he wasn't asleep. I've read his favourite book with him… a number of times… It's "Tchou et ses amis". It's the story of how Postou the little post truck is sick and can't deliver the parcels. Paul couldn't care less about the story line, but he loves to point at the animals in the pictures, again and again, and I repeat their names again and again. That's fun until the 20th time :-)
Today, we went to the local park to give old bread to ducks, to walk around a bit and let him play outside a bit. He loved that, especially when one duck let Paul chase her around !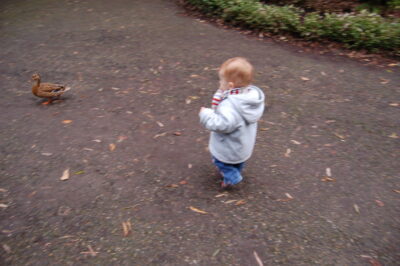 Then we went back on the bike. I think Paul loves it about as much as me :)